February 4 2020:

ROTH, Ruby B.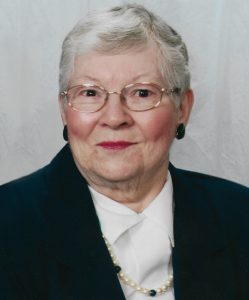 Ruby B. Roth (Age 84)
Ruby Roth passed away peacefully in her home on February 3, 2020. She was born in Monticello, Georgia on March 22, 1935 to Benny Delone and Annie Kate Batchelor, the second of ten children. After graduating from Monticello High School in 1953, she worked at the Baptist state newspaper, The Christian Index, in Atlanta, where she met Richard Roth, who was in the Air Force. They were married on July 28, 1956 and eventually settled in Wheaton, Maryland. They were married for 59 years until Richard's death in 2015.
Ruby taught preschool for over 14 years at the Montrose Daycare Center in Rockville, Maryland. She enjoyed gardening, crafts, was a talented seamstress and a wonderful cook and baker.
In addition to her husband Richard and her parents Benny and Annie Kate, she is preceded in death by her brother, Jimmy Jack Batchelor, and sisters Patricia Ann Batchelor and Dorothy Batchelor Shaw.
She is survived by her daughters Pamela Roth Eubanks and husband Larry; Karen Roth and partner Debbie Addison; her son Richard Erie Roth; granddaughter Angela Eubanks Mendelson and husband Eric; grandson Austin Lee Eubanks; and great-grandson Parker Lee Mendelson. She is also survived by her siblings Robert Batchelor, Mable Nix, Benny Batchelor, Jr., Cordy Batchelor, Linard Batchelor and Tommy Batchelor.
Visitation will be Friday, February 7th from 3-5pm and 7-9pm, at Collins Funeral Home, 500 University Blvd, W., Silver Spring, MD (Valet Parking). The family will also receive guests at 12:30pm on Saturday, February 8th prior to the funeral service at 1pm at Collins Funeral Home. Burial will be a private service in Kingwood, West Virginia at a later date. In lieu of flowers, donations may be given to ­­­­­­­­­­American Cancer Society, Wheaton Rescue Squad, or Holy Cross Home Care & Hospice.