February 5 2020:

LIAPIS, Kyriaki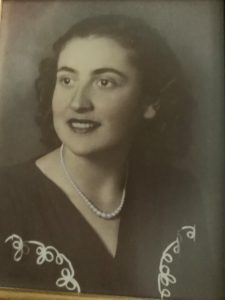 Kyriaki Liapis
Kyriaki Liapis, 91, of Charlotte, NC and formerly of Leesburg, VA and Tacoma Park, MD, beloved mother, grandmother, and great grandmother, passed peacefully unto the hands of the Lord on Saturday, February 1, 2020 at home, surrounded by her daughter, son and daughter-in-law.  Born on December 21, 1928, on the beautiful island, Kos, Greece, she was the daughter of the late Sakelari and Thalia Pilatou and the widow of Stamati Liapis.
Kyriaki with her family, moved to the United States in 1961, settling in the Washington, DC area. Kyriaki was vivacious and outgoing, whose home was always filled with joy and was always welcoming to family and friends. She loved cooking and baking, and other hobbies included knitting and needle point. She traveled extensively, especially to Europe, with her husband, children and friends. Her absence will be greatly felt, and the memory of her will be forever cherished.
Kyriaki had been ill, but her physical strength along with her devout faith enabled her to live with her illness for many years before  succumbing to it. The family thanks the caregivers who provided support and comfort.
In addition to her late parents and husband, Kyriaki was predeceased by her brother, Dimitri (Jimmy) Pilatou. She is survived by her son, Peter  Liapis (Eve) of Charlotte, NC; daughter, Thalia Comuntzis (Chris) of Leesburg, VA; grandchildren, Stamati Comuntzis, Constantine Comuntzis, Eleni Kyriaki Vera (Keith), and Stamati Liapis; great-grandchildren, Xristo Vera, Thalia Vera, and Evalia Vera, and many nieces, nephews and cousins.
Visitation is from 10:30 to 11:30 followed by the funeral service at St. George Greek Orthodox Church, 7701 Bradley Blvd., Bethesda, MD on Thursday, February 13, 2020. Interment will take place at Gate of Heaven, 13801 Georgia Ave., Silver Spring, MD. In lieu of flowers memorial contributions may be made to Cure Alzheimer's Fund, or checks can be mailed to 34 Washington St., Suite 310, Wellesley Hills, MA 02481. Donations can also be made to St. George Greek Preschool.